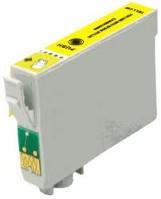 SKU: T126420Availability:
In Stock
Type:
Compatible
Color:
Yellow
Printer Brand:
Epson
Details
This compatible yellow ink cartridge replaces the Epson T126420 high capacity ink cartridge (T1264). Cut your costs in half with these compatibles without sacrificing quality. Our T126 series inks offer superior image quality!
Compatible Printers
Stylus NX330, Stylus NX430, WorkForce 320,WorkForce 323,WorkForce 325,WorkForce 520, WorkForce 435,WorkForce 545, WorkForce 60, WorkForce 630, WorkForce 633, WorkForce 635, WorkForce 645, WorkForce 840, WorkForce 845, WorkForce WF-3520, WorkForce WF-3540, WorkForce WF-7010,WorkForce WF-7510, WorkForce WF-7520
Here is the GTIN for Epson T126420 Yellow Ink Cartridge (High Yield): 843964022394
Why choose Castle Ink?
100% satisfaction guarantees on all
Epson Ink Cartridges
and laser toner, free shipping when you spend $50, and seasoned customer service representatives that have been working in the print industry for more than 20 years.
These are the all the tags associated with Epson T126420 Yellow Ink Cartridge (High Yield):
Stylus NX330, Stylus NX430, T126, T1264, T126420, WorkForce 320, WorkForce 323, WorkForce 325, WorkForce 435, WorkForce 520, WorkForce 545, WorkForce 60, WorkForce 630, WorkForce 633, WorkForce 635, WorkForce 645, WorkForce 840, WorkForce 845, WorkForce WF-3520, WorkForce WF-3540, WorkForce WF-7010, WorkForce WF-7510, WorkForce WF-7520