Search By Printer Model or Ink Cartridge #
Search for ink cartridge or printer model: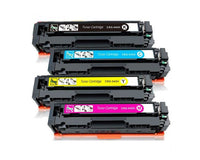 Why Choose Castle Ink?
Castle Ink offers secure, one-stop shopping. We offer premium generic printer ink and laser toner that are 30% - 70% off the price that you would find at many popular manufacturers, with the additional convenience of never having to leave your home.
Your satisfaction is important to us so if for any reason you are not completely satisfied with your order, send it back and we will issue you a full refund.
Shipping is free when your order total is $50 or more and if you order by 1 pm EST, we will ship out your products on that same day.
Castle Ink is green certified, and offers secure shopping, 100% customer satisfaction guarantee on all products, and the absolute lowest prices for the best recycled printer ink replacement.    We're also here to offer printer support across all printer models.  Have a issue?  We're happy to help you resolve it!
Printer Ink Cartridge & Toner Brands
Customer Testimonials
Thank you for your excellent service. I ordered ink cartridges for my OLD printer. I have been wary of "compatible" cartridges, as those I ordered from another online store did not fit my printer - though the order said they were compatible. But it is getting increasingly difficult to find cartridges for this printer. Castleink provided the correct cartridges at a very reasonable price and they arrived in just a few days - without premium shipping costs. I'll definitely be ordering from you again.

Marcy, Illinois
Being a middle aged woman, I'm skeptical ordering over the internet. I priced ink at the local stores and your prices were so low, I just had to try your site. I'm am so impressed with the quality and speed with which I received my order. I am forwarding your site to all my computer friends. It's nice to save time and money these days.

Effie, Boston
I have two different printers that I am constantly having to refill because I print a lot. The problem that I was running into is because I print so much, it was just so expensive to have to buy refills for both printers' inkjet cartridges for the Epson and then, of course, laser toner for the Brother. Castle Ink's shipping is fast, customer service is excellent, and the product that they sell is superb. I have not had one single problem from any of the refills I have gotten from Castle Ink.

Brian, NY
Just a note to thank you for being there, and saving me money on ink. The cartridges I received from you are working just fine. Thank you again.

Gary
Printer Support - Most Commonly Asked Questions