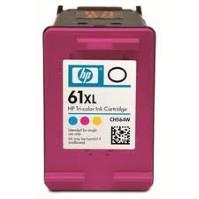 SKU: CH564WN
Availability: In Stock
Type: Remanufactured
Color: Color
Printer Brand: HP
Model: HP 61 Color Ink

Details
This is professionally remanufactured HP 61 color ink cartridge (CH564WN - HP 61XL) high yield color ink cartridge. It is an original HP CH564WN ink cartridge which has been thoroughly cleaned and refilled. Comes with our 100% satisfaction guarantee.  Don't forget the black ink: HP 61 Black Ink Cartridge
Compatible Printers
Deskjet 1000, Deskjet 1010,Deskjet 1050,Deskjet 1051,Deskjet 1055,Deskjet 1056,Deskjet 1510,Deskjet 1512,Deskjet 2050,Deskjet 2510,Deskjet 2512,Deskjet 2514,Deskjet 2540,Deskjet 2542,Deskjet 2543,Deskjet 2544,Deskjet 3000,Deskjet 3050,Deskjet 3050A,Deskjet 3051A,Deskjet 3052A,Deskjet 3054,Deskjet 3056A,Deskjet 3510,Deskjet 3511,Deskjet 3512,Deskjet 3516,envy 4500,ENVY 4500 e-All-in-One,ENVY 4501, ENVY 4502,ENVY 4503,ENVY 4504,ENVY 4504 e-All-in-One,ENVY 4505,ENVY 5530,ENVY 5530 e-All-in-One,ENVY 5531,ENVY 5531 e-All-in-One,ENVY 5535 e-All-in-One,ENVY 5535,OfficeJet 2620,OfficeJet 4630,OfficeJet 4632,OfficeJet 4635,OfficeJet 8040,OfficeJet 8045
More About the HP 61 Ink - CH564WN Color XL Ink Cartridge
Cartridge type: Generic HP ink cartridge
Page yield: Up to 330 pages (based on ISO/IEC 24711 testing)
Ink type: Dye-based ink
Color: Tri-color (cyan, magenta, and yellow)
Ink volume: 8.5 ml
Compatibility: HP Deskjet 1000, 1010, 1050, 1051, 1055, 1056, 1510, 1512, 2050, 2510, 2512, 2514, 2540, 2541, 2542, 2543, 2544, 2545, 2546, 2547, 2548, 2549, 3000, 3050, 3050A, 3051A, 3052A, 3054, 3054A, 3055A, 3056A, 3057A, 3059A, 3510, 3511, 3512, 3515, 3516; HP Envy 4500, 4501, 4502, 4503, 4504, 4505, 4506, 4507, 4508, 4509, 5530, 5531, 5532, 5534, 5535, 5539; HP Officejet 2620, 2621, 2622, 4630, 4631, 4632, 4634, 4635, 4636, 4639
Packaging: The HP 61 Ink - CH564WN Color XL Ink Cartridge comes in a plastic bag and is then placed in a cardboard box for shipping.
Dimensions: 4.49 x 1.43 x 4.05 in (114 x 36.3 x 103 mm)
Weight: 0.10 lb (0.05 kg)
Environmental features: This cartridge is made from recycled materials and can be recycled through the HP Planet Partners program. It is also designed to be energy-efficient and uses HP's closed-loop recycling system to reduce waste.
Why choose Castle Ink?
100% satisfaction guarantees on all ink cartridges and laser toner, free shipping when you spend $50, and seasoned customer service representatives that have been working in the print industry for more than 20 years.