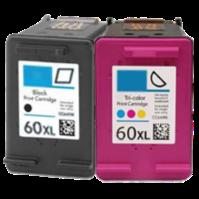 SKU: HP60XLAvailability:
In Stock
Type:
Remanufactured
Color:
Black & Tri-Color
Printer Brand:
HP
Details
This is a set of 2 high yield remanufactured HP 60XL series ink cartridges; (1) black HP CC641WN and (1) tri-color HP HP CC644WN. Comes with our 100% Satisfaction Guaranteed. Remanufactured to meet original specifications and performance standards. Offered as an economical and environmentally sensitive alternative.
Compatible Printers
Deskjet D1660,Deskjet D1663,Deskjet D2500, Deskjet D2530,Deskjet D2545,Deskjet D2560,Deskjet D2563,Deskjet D2566,Deskjet D2568,Deskjet D2645,Deskjet D2660,Deskjet D2663,Deskjet D2680,Deskjet D5560,Deskjet F4240, Deskjet F4280,Deskjet D2500 Series, Deskjet D2530, Deskjet D2560, Deskjet D2680,Deskjet F2400,Deskjet F2420,Deskjet F2423,Deskjet F2430,Deskjet F2480,Deskjet F2483,Deskjet F2488,Deskjet F2492,Deskjet F2493,Deskjet F4200 Series,Deskjet F4210,Deskjet F4213,Deskjet F4230, Deskjet F4235, Deskjet F4240, Deskjet F4250, Deskjet F4272,Deskjet F4273, Deskjet F4274, Deskjet F4275, Deskjet F4280, Deskjet F4283,Deskjet F4288, Deskjet F4292, Deskjet F4293,Deskjet F4435,Deskjet F4400,Deskjet F4435,Deskjet F4440,Deskjet F4450,Deskjet F4480,Deskjet F4500,Deskjet F4580,Envy 100 e-All-In-One-D410a,Envy 100 e-All-in-One-D410b,Envy 110 e-All-in-One-D411a,Envy 110 e-All-in-One-D411b,Envy 111 e-All-in-One-D411d,Envy 114 e-All-in-one-D411c,Envy 120 e-all-in-one, Envy 121 e-all-in-one, Envy Wireless e,PHOTOSMART C4600,PHOTOSMART C4610,PHOTOSMART C4635,PHOTOSMART C4640,PHOTOSMART C4650,PHOTOSMART C4670,PHOTOSMART C4673,PHOTOSMART C4680,PHOTOSMART C4683,PHOTOSMART C4685,PHOTOSMART C4688,PHOTOSMART C4690,PHOTOSMART C4700,PHOTOSMART C4740,PHOTOSMART C4750,PHOTOSMART C4780,PHOTOSMART C4783,PHOTOSMART C4785,PHOTOSMART C4788,PHOTOSMART C4793,PHOTOSMART C4795,PHOTOSMART C4798,PHOTOSMART C4799,PHOTOSMART D110a,PHOTOSMART e-All-in-One Wireless, PHOTOSMART e-all-in-one, PHOTOSMART C e-all-in-one D110a, PHOTOSMART CN731A,PHOTOSMART E (CN731A)
Here is the GTIN for HP 60XL Black & Tri-Color Ink Bundle (CC641WN & CC644WN ): 810000266418
Why choose Castle Ink?
100% satisfaction guarantees on all
HP Ink Cartridges
and laser toner, free shipping when you spend $50, and seasoned customer service representatives that have been working in the print industry for more than 20 years.
These are the all the tags associated with HP 60XL Black & Tri-Color Ink Bundle (CC641WN & CC644WN ):
CC641, CC641WN, CC644, CC644WN, Deskjet D1660, Deskjet D1663, Deskjet D2500, Deskjet D2500 Series, Deskjet D2530, Deskjet D2545, Deskjet D2560, Deskjet D2563, Deskjet D2566, Deskjet D2568, Deskjet D2645, Deskjet D2660, Deskjet D2663, Deskjet D2680, Deskjet D5560, Deskjet F2400, Deskjet F2420, Deskjet F2423, Deskjet F2430, Deskjet F2480, Deskjet F2483, Deskjet F2488, Deskjet F2492, Deskjet F2493, Deskjet F4200, Deskjet F4200 Series, Deskjet F4210, Deskjet F4213, Deskjet F4230, Deskjet F4235, Deskjet F4240, Deskjet F4250, Deskjet F4272, Deskjet F4273, Deskjet F4274, Deskjet F4275, Deskjet F4280, Deskjet F4283, Deskjet F4288, Deskjet F4292, Deskjet F4293, Deskjet F4400, Deskjet F4435, Deskjet F4440, Deskjet F4450, Deskjet F4480, Deskjet F4500, Deskjet F4580, Envy 100 D410a, Envy 100 D410b, Envy 100 D411a, Envy 100 D411b, Envy 100 e-All-In-One-D410a, Envy 100 e-All-in-One-D410b, envy 110, Envy 110 e-All-in-One-D411a, Envy 110 e-All-in-One-D411b, envy 111, Envy 111 e-All-in-One-D411d, envy 114, Envy 114 e-All-in-one-D411c, envy 120, envy 120 e-all-in-one, envy 121, envy 121 e-all-in-one, Envy Wireless e, HP 60, HP 60 XL, HP60XL, PHOTOSMART C4600, PHOTOSMART C4610, PHOTOSMART C4635, PHOTOSMART C4640, PHOTOSMART C4650, PHOTOSMART C4670, PHOTOSMART C4673, PHOTOSMART C4680, PHOTOSMART C4683, PHOTOSMART C4685, PHOTOSMART C4688, PHOTOSMART C4690, PHOTOSMART C4700, PHOTOSMART C4740, PHOTOSMART C4750, PHOTOSMART C4780, PHOTOSMART C4783, PHOTOSMART C4785, PHOTOSMART C4788, PHOTOSMART C4793, PHOTOSMART C4795, PHOTOSMART C4798, PHOTOSMART C4799, PHOTOSMART CN731A, PHOTOSMART D110a, PHOTOSMART E (CN731A), PHOTOSMART e all in one, PHOTOSMART e-All-in-One Wireless