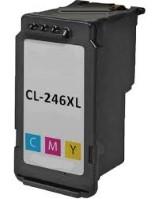 SKU: 8281B001AA
Product ID: Canon CL-246XL
Availability: In Stock
Type: Remanufactured
Color: Color
Printer Brand: Canon

Looking for a reliable ink cartridge that delivers high-quality prints for your Canon printer? Look no further than the Canon CL-246XL ink cartridge!

Details
Replaces Canon CL-246 and CL-246XL ink cartridges.
This remanufactured color Canon CL-246XL replaces the original Canon 8280B001AA high yield ink. It's 100% guaranteed to offer outstanding print quality at half the cost of name brand replacements. Pay less without sacrificing quality - give our replacement Canon CL-246XL ink cartridges a try today.
Compatible Printers
PIXMA iP2820, PIXMA MG2420, PIXMA MG2520, PIXMA MG2924, PIXMA iP2820, PIXMA MG2920, PIXMA MG2922, PIXMA MX490, PIXMA MX492,PIXMA TS3320, MG2522, MG2525, MG2555, MG3020, MG3022, TR4520, TR4550, TS202, TS302, TS3120, TS3122
More Info About the CL-246XL Ink Cartridge
This ink cartridge is designed to work with a range of Canon PIXMA printers, including the PIXMA MG2420, MG2520, MG2920, MG2922, MG2924, MX490, MX492, iP2820, and TS3120. With its compatibility, you can easily replace your old cartridge and enjoy the benefits of this new one.
One of the key features of the Canon CL-246XL ink cartridge is its high print yield. This cartridge is an XL model, which means it has a higher capacity than standard cartridges, allowing you to print more pages before needing to replace it. With a yield of up to 300 pages per cartridge, you can keep your printer running smoothly for longer periods.
Not only does the Canon CL-246XL ink cartridge offer a high yield, but it also delivers vibrant, clear prints every time. The ink formula is designed to produce sharp, crisp text and vivid colors, making it ideal for printing everything from documents and reports to photographs and graphics.
Another great feature of the Canon CL-246XL ink cartridge is its easy installation process. Simply remove your old cartridge and insert the new one into your printer. The cartridge snaps easily into place, ensuring a secure fit and reliable performance.
Overall, the Canon CL-246XL ink cartridge is a top-quality product that delivers consistent, high-quality prints for a range of Canon PIXMA printers. With its high yield, vibrant ink formula, and easy installation, this cartridge is an excellent choice for anyone looking to get the most out of their Canon printer.
Why choose Castle Ink?
100% satisfaction guarantees on all ink cartridges and laser toner, free shipping when you spend $50, and seasoned customer service representatives that have been working in the print industry for more than 20 years.