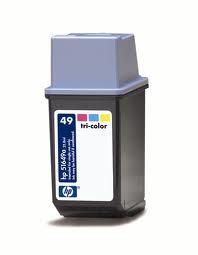 SKU: 51649AAvailability:
In Stock
Type:
Remanufactured
Color:
Color
Printer Brand:
HP
Details
This HP 49 tri color ink cartridge replaces the HP 51649A (No. 49). It has been professionally remanufactured and comes with our 100% satisfaction guarantee. Cut your ink cartridge costs without compromising quality!
Compatible Printers
Deskjet 350,Deskjet 350c,Deskjet 350c-cbi,Deskjet 390c,Deskjet 600,Deskjet 600c,Deskjet 610,Deskjet 610c,Deskjet 610cl,Deskjet 612,Deskjet 612c,Deskjet 630,Deskjet 630c,Deskjet 632,Deskjet 632c,Deskjet 640,Deskjet 640c,Deskjet 642,Deskjet 642c,Deskjet 648,Deskjet 648c,Deskjet 650c,Deskjet 656,Deskjet 656c,Deskjet 656cvr,Deskjet 660,Deskjet 660c,Deskjet 660cse,Deskjet 670,Deskjet 670c,Deskjet 670tv,Deskjet 672,Deskjet 672c,Deskjet 680,Deskjet 680c,Deskjet 682,Deskjet 682c,Deskjet 690,Deskjet 690c,Deskjet 692,Deskjet 692c,Deskjet 693,Deskjet 693c,Deskjet 694,Deskjet 694c,Deskjet 695,Deskjet 695c,Deskjet 695cci,Deskjet 697,Deskjet 697c,Deskwriter 500,Deskwriter 500c,Deskwriter 600,Deskwriter 600c,Deskwriter 600cse,Deskwriter 660,Deskwriter 660c,Deskwriter 672,Deskwriter 672C,Deskwriter 680,Deskwriter 680c,Deskwriter 682,Deskwriter 682C,Deskwriter 693,Deskwriter 693C,Deskwriter 694,Deskwriter 694c,Officejet 500,Officejet 520,OFFICEJET 570,Officejet 580,Officejet 590,Officejet 600,Officejet 610,Officejet 630,Officejet 635,Officejet 700,Officejet 710,Officejet 720,OfficeJet 725,PSC 300,PSC 370,PSC 380,
Why choose Castle Ink?
100% satisfaction guarantees on all ink cartridges and laser toner, free shipping when you spend $50, and seasoned customer service representatives that have been working in the print industry for more than 20 years.