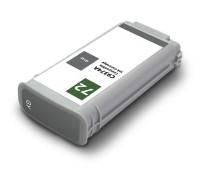 SKU: C9374AAvailability:
In Stock
Type:
Remanufactured
Color:
Gray
Printer Brand:
HP
Details
This is a remanufactured C9374A (HP 72) gray ink cartridge. It's an original Hewlett Packard C9374A ink cartridge that we've recycled, cleaned, and professionally recharged with a high quality pigment-based ink to enable archival print life and color stability. All of our HP 72 series ink cartridges, including the C9374A come with our 100% satisfaction guarantee.
Compatible Printers
DesignJet T1100,DesignJet T1100ps,DesignJet T1120,DesignJet T1120 SD-MFP,DesignJet T1120ps,DesignJet T1200,DesignJet T1200ps,DesignJet T2300 emultifunction,DesignJet T2300 PostScript emultifunction,DesignJet T610,DesignJet T620,DesignJet T770,DesignJet T790
Here is the GTIN for HP C9374A High-Yield Gray Ink Cartridge (HP 72): 810000266418
Why choose Castle Ink?
100% satisfaction guarantees on all
HP Ink Cartridges
and laser toner, free shipping when you spend $50, and seasoned customer service representatives that have been working in the print industry for more than 20 years.
These are the all the tags associated with HP C9374A High-Yield Gray Ink Cartridge (HP 72):
C9374A, DesignJet T1100, DesignJet T1100ps, DesignJet T1120, DesignJet T1120 SD-MFP, DesignJet T1120ps, DesignJet T1200, DesignJet T1200ps, DesignJet T2300 emultifunction, DesignJet T2300 PostScript emultifunction, DesignJet T610, DesignJet T620, DesignJet T770, DesignJet T790, HP 72