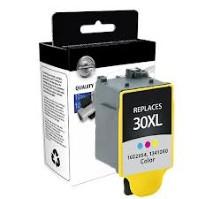 SKU: '1341080Availability:
In Stock
Type:
Compatible
Color:
Color
Printer Brand:
Kodak
Details
Compatible Kodak 1341080 / #30XL color ink cartridge. Designed to meet the same original specifications and performance standards as the Kodak originals. Replaces lower yield Kodak 1022854. Comes with our 100% satisfaction guarantee!
Compatible Printers
Hero 3.1,Hero 5.1,ESP C110,ESP C310,ESP C315,ESP Office 2150,ESP Office 2170,ESP 3.2,Kodak 1308,Kodak 300,Kodak 3072,Kodak 3072 DL,Kodak 3072 XL,Kodak Ektaprint 30,Diconix/Kodak 300,Diconix/Kodak 300 W,Kodak Easyshare 5300,Kodak Photo Printer 300
Here is the GTIN for Kodak #30XL Color Ink Cartridge (1341080): 708562000543
Why choose Castle Ink?
100% satisfaction guarantees on all
Kodak EasyShare 300 Printer Ink Cartridges
Kodak Ink Cartridges
and laser toner, free shipping when you spend $50, and seasoned customer service representatives that have been working in the print industry for more than 20 years.
These are the all the tags associated with Kodak #30XL Color Ink Cartridge (1341080):
1022854, 1341080, 1361400, 1361400 (337714), 13620HC, 136400HC, 1380620, Diconix/Kodak 300, Diconix/Kodak 300 W, ESP 3.2, ESP C110, ESP C310, ESP C315, ESP Office 2150, ESP Office 2170, Hero 3.1, Hero 5.1, Kodak 1308, kodak 30, Kodak 300, Kodak 3072, Kodak 3072 DL, Kodak 3072 XL, kodak 30XL, Kodak Easyshare 5300, Kodak Ektaprint 30, Kodak Photo Printer 300