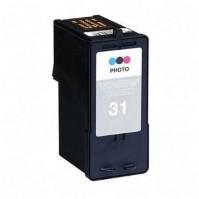 SKU: 18C0031Availability:
In Stock
Type:
Remanufactured
Color:
Photo
Printer Brand:
Lexmark
Details
Cut your printing costs in half with this remanufactured Lexmark 18C0031 ink cartridge. This ink cartridge is an original Lexmark 18C0031 (#31) photo ink cartridge that has been through one cycle of service and has been recharged. We 100% guarantee that it will work just as well as the original or your money back!
This photo ink cartridge contains black, light cyan and light magenta. Use this ink cartridge in place of your black cartridge to produce better looking photos. Instead of only having four colors to print with (black, cyan, magenta, and yellow) this cartridge brings the total to 6, making for much better photo quality.
Please be aware that due to Lexmark changes in chip programming the ink levels for this particular cartridge might appear to be low or empty (it is full and will print a full yield).
Compatible Printers
Home Copier Plus, P4330, P4350, P6250, P6350, P8350, P915, X2500, X2530, X2550, X2600, X2630, X2650, X2670, X2690, X3330, X3350, X3530, X3550, X3650, X4530, X4550, X4580, X4650, X4690, X5070, X5075, X5210, X5250, X5260, X5270, X5320, X5340, X5410, X5450, X5470, X5495, X5650, X5650es, X5690, X6350, X6650, X6675, X7170, X7350, X8350, Z1300, Z1310, Z1320, Z1410, Z1420, Z1480, Z2300, Z2320, Z2390, Z2420, Z2490, Z2520, Z810, Z812, Z815, Z816, Z818, Z845
Why choose Castle Ink?
100% satisfaction guarantees on all ink cartridges and laser toner, free shipping when you spend $50, and seasoned customer service representatives that have been working in the print industry for more than 20 years.