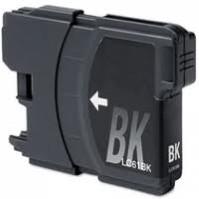 SKU: LC61BAvailability:
In Stock
Type:
Compatible
Color:
Black
Printer Brand:
Brother
Details
This high-yield compatible cartridge replaces the Brother LC-61BK black ink cartridge. It is a high quality compatible replacement ink cartridge with a page yield of over 450 pages. Comes with our 100% satisfaction guarantee!
Compatible Printers
DCP-165,DCP-165C,DCP-375CW,DCP-385C,DCP-385CW,DCP-395CN, DCP-585,DCP-585CW,DCP-6690 CW,DCP-J125,DCP-J140 W,DCP-J715 W,MFC-250C,MFC-255CW,MFC-290,MFC-290C,MFC-295CN,MFC-490,MFC-490CW,MFC-495CW,MFC-5490CN,MFC-5890,MFC-5895CW,MFC-6490,MFC-6890 DW,MFC-6890 CDW,MFC-790,MFC-790CW,MFC-795CW,MFC-990CW,MFC-J220,MFC-J265W,MFC-J270W,MFC-J410W,MFC-J415W,MFC-J615W,MFC-J630W
Here is the GTIN for Brother LC61B Black Ink cartridge: 610098701651
Why choose Castle Ink?
100% satisfaction guarantees on all
Brother Ink Cartridges
and laser toner, free shipping when you spend $50, and seasoned customer service representatives that have been working in the print industry for more than 20 years.
These are the all the tags associated with Brother LC61B Black Ink cartridge:
DCP-165, DCP-165C, DCP-375, DCP-375CW, DCP-385, DCP-385C, DCP-385CW, DCP-395, DCP-395CN, DCP-585, DCP-585CW, DCP-6690CW, DCP-J125, DCP-J140 W, DCP-J140W, DCP-J715W, lc-61b, lc-61bk, lc61, lc61b, lc61bk, MFC-250, MFC-250C, MFC-255, MFC-255CW, MFC-290, MFC-290C, MFC-295, MFC-295CN, MFC-490, MFC-490CW, MFC-495, MFC-495CW, MFC-5490, MFC-5490CN, MFC-5890, MFC-5895, MFC-5895CW, MFC-6490, MFC-6890, MFC-6890 CDW, MFC-6890 DW, MFC-790, MFC-790CW, MFC-795, MFC-795CW, MFC-990, MFC-990CW, MFC-J220, MFC-J265, MFC-J265W, MFC-J270, MFC-J270W, MFC-J410, MFC-J410W, MFC-J415, MFC-J415W, MFC-J615, MFC-J615W, MFC-J630, MFC-J630W