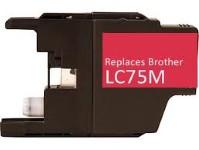 SKU: LC75MAvailability:
In Stock
Type:
Compatible
Color:
Magenta
Printer Brand:
Brother
Details
This compatible magenta extra large ink cartridge replaces the Brother LC75M ink cartridge. These ink cartridges come with our 100% satisfaction guarantee - stock up now and save even more!
Compatible Printers
MFC-J6510 DW, MFC-J6710 DW, MFC-J6910 DW,MFC-J825DW,DCP-J525 W, DCP-J725 DW, DCP-J925 DW, MFC-J280 W, MFC-J425 W, MFC-J430 W, MFC-J435 W, MFC-J5910 DW, MFC-J625 DW, MFC-J625 W, MFC-J6510 DW, MFC-J6710 DW, MFC-J6910 DW, MFC-J825 DW, MFC-J835 DW
Here is the GTIN for Brother LC75M XL Magenta Ink Cartridge: 610098701651
Why choose Castle Ink?
100% satisfaction guarantees on all
Brother Ink Cartridges
and laser toner, free shipping when you spend $50, and seasoned customer service representatives that have been working in the print industry for more than 20 years.
These are the all the tags associated with Brother LC75M XL Magenta Ink Cartridge:
DCP-J525 W, DCP-J525W, DCP-J725 DW, DCP-J725DW, DCP-J925 DW, DCP-J925DW, LC 75M, LC-75, LC75M, MFC-J280 W, MFC-J280W, MFC-J425 W, MFC-J425W, MFC-J430 W, MFC-J430W, MFC-J435 W, MFC-J435W, MFC-J5910 DW, MFC-J5910DW, MFC-J625 DW, MFC-J625 W, MFC-J625DW, MFC-J625W, MFC-J6510 DW, MFC-J6510DW, MFC-J6710 DW, MFC-J6710DW, MFC-J6910 DW, MFC-J6910DW, MFC-J825 DW, MFC-J825DW, MFC-J835 DW, MFC-J835DW