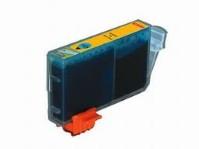 SKU: BCI-3ePCAvailability:
In Stock
Type:
Compatible
Color:
Cyan
Printer Brand:
Canon
Details
This compatible photo cyan ink cartridge replaces the Canon BCI-3ePC (BCI3EPC). Cut your ink cartridge costs without compromising quality. Comes with our 100% satisfaction guarantee - plus our low price guarantee. Find it cheaper somewhere else - we'll honor the price.
Compatible Printers
BJC-3000. BJC-3010, BJC-6000, BJC-6100, BJC-6200,BJC-6500, i550, i6500, i8650,MultiPASS C100, MultiPASS C400, MultiPASS C600F, MultiPASS C755, MultiPASS F30, MultiPASS F50, MultiPASS F60, MultiPASS F80, MultiPASS MP700 Color, MultiPASS MP730 Color, S400, S450, S4500, S500,S530D, S600, S630, S630N,Smartbase MP200 Photo, Smartbase MP730 Photo, Smartbase MPC400, Smartbase MPC600F,
Here is the GTIN for Canon BCI-3ePC Photo Cyan Cartridge: 655257901428
Why choose Castle Ink?
100% satisfaction guarantees on all
Canon Printer Ink
and laser toner, free shipping when you spend $50, and seasoned customer service representatives that have been working in the print industry for more than 20 years.
These are the all the tags associated with Canon BCI-3ePC Photo Cyan Cartridge:
BCI-3ePC, bci3, bci3epc, BJC-3000. BJC-3010, BJC-6000, BJC-6100, BJC-6200, BJC-6500, i550, i6500, i8650, MultiPASS C100, MultiPASS C400, MultiPASS C600F, MultiPASS C755, MultiPASS F30, MultiPASS F50, MultiPASS F60, MultiPASS F80, MultiPASS MP700 Color, MultiPASS MP730 Color, S400, S450, S4500, S500, S530D, S600, S630, S630N, Smartbase MP200 Photo, Smartbase MP730 Photo, Smartbase MPC400, Smartbase MPC600F