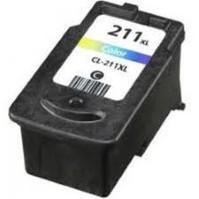 SKU: CL211XLAvailability:
In Stock
Type:
Remanufactured
Color:
Color
Printer Brand:
Canon
Details
We no longer carry remanufactured color ink cartridge replacements for the Canon CL211XL due to reliability issues. We recommend purchasing only new, brand-name Canon replacements -
click here to purchase them at 4inkjets
. Apologies for any inconvenience.
Compatible Printers
PIXMA ip2700, PIXMA iP2702, PIXMA MP230, PIXMA MP240, PIXMA MP250, PIXMA MP260, PIXMA MP270, PIXMA MP280, PIXMA MP480, PIXMA MP490, PIXMA MP495, PIXMA MP499, PIXMA MX320, PIXMA MX330, PIXMA MX340, PIXMA MX350,PIXMA MX360, PIXMA MX410,PIXMA MX420
Here is the GTIN for Canon CL211XL Color Ink Cartridge (XL): 655257901428
Why choose Castle Ink?
100% satisfaction guarantees on all
Canon Printer Ink
and laser toner, free shipping when you spend $50, and seasoned customer service representatives that have been working in the print industry for more than 20 years.
These are the all the tags associated with Canon CL211XL Color Ink Cartridge (XL):
Canon 211, CL-211, CL-211XL, CL211, cli-211, cli211, PIXMA ip2700, PIXMA iP2702, PIXMA MP230, PIXMA MP240, PIXMA MP250, PIXMA MP260, PIXMA MP270, PIXMA MP280, PIXMA MP480, PIXMA MP490, PIXMA MP495, PIXMA MP499, PIXMA MX320, PIXMA MX330, PIXMA MX340, PIXMA MX350, PIXMA MX360, PIXMA MX410, PIXMA MX420