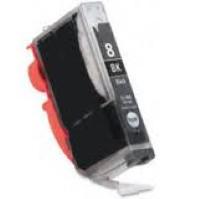 SKU: CLI-8BKAvailability:
In Stock
Type:
Compatible
Color:
Black
Printer Brand:
Canon
Details
This compatible ink cartridge replaces the Canon CLI-8B inkjet cartridge (0620B002). Every CLI8BK ink cartridge is fully guaranteed and designed to offer outstanding print quality. These compatible ink cartridges are the perfect option for Canon users who wish to cut their cartridge costs without compromising quality.
Our compatible Canon CLI-8BK black ink cartridges are ideal for home and business users who need vibrant photo print outs and sharp black text documents. They are great for printing photos, presentations, and regular documents. Key features include:
- reliable photo and document printing
- compatible with many PIXMA and PIXUS series printers (see below for the complete list)
- uses full photolithography inkjet nozzle engineering
- smudge resistant and water resistant
Give our CLI-8BK ink cartridges a try today and save yourself up to 50% on printing costs.
Compatible Printers
ix4000 - A3 Ptr, ix5000 - A3 Ptr, MULTIPASS 500,PIXMA MP500,PIXMA MP510,PIXMA MP520,PIXMA MP530,PIXMA MP600,PIXMA MP610,PIXMA MP800,PIXMA MP800R,PIXMA MP810,PIXMA MP830,PIXMA MP950,PIXMA MP960,PIXMA MP970,PIXMA IP3300,PIXMA IP3500,PIXMA IP4200, PIXMA IP4300,PIXMA IP4500,PIXMA IP5200,PIXMA IP5200R,PIXMA IP5300,PIXMA IP6600,PIXMA IP6600D,PIXMA IP6700,PIXMA IP6700D,PIXMA MP950,PIXMA MX700,PIXMA MX850,PIXMA PRO 9000,PIXMA Pro 9000 Mark II,PIXUS iP4200
Here is the GTIN for Canon CLI-8BK Black Ink Cartridge: 655257901428
Why choose Castle Ink?
100% satisfaction guarantees on all
Canon Printer Ink
and laser toner, free shipping when you spend $50, and seasoned customer service representatives that have been working in the print industry for more than 20 years.
These are the all the tags associated with Canon CLI-8BK Black Ink Cartridge:
cli-8, CLI-8BK, cli8b, cli8bk, ix4000, ix4000 - A3, ix5000, ix5000 - A3 Ptr, MULTIPASS 500, MULTIPASS 800R, MULTIPASS 830, MULTIPASS 950, PIXMA IP3300, PIXMA IP4200, PIXMA IP4300, PIXMA IP4500, PIXMA IP5200, PIXMA IP5200R, PIXMA IP5300, PIXMA IP6600, PIXMA IP6600D, PIXMA IP6700, PIXMA IP6700D, PIXMA MP500, PIXMA MP510, PIXMA MP530, PIXMA MP530 MFP, PIXMA MP600, PIXMA MP610, PIXMA MP800, PIXMA MP800R, PIXMA MP810, PIXMA MP830, PIXMA MP950, PIXMA MP960, PIXMA MP970, PIXMA MX700, PIXMA MX850, PIXMA PRO 9000, PIXMA PRO 9000 MARK II, PIXUS iP4200