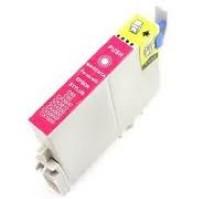 SKU: T060320Availability:
In Stock
Type:
Compatible
Color:
Magenta
Printer Brand:
Epson
Details
This compatible magenta ink cartridge replaces the Epson T060320 (T0603). Try our affordable, durable, long lasting ink - it's the smart alternative! Come with our 100% satisfaction guarantee. Got questions? We're here to help - as us anything!
Compatible Printers
Stylus C68, Stylus C88, Stylus C88Plus,Stylus C88+, Stylus CX3800, Stylus CX3810, Stylus CX4200, Stylus CX4800, Stylus CX5800, Stylus CX5800F, Stylus CX5800 F,Stylus C5800F, Stylus CX7800,Stylus D68P, Stylus D88, Stylus D88 Plus, Stylus DX3800, Stylus DX4800
Here is the GTIN for Epson T060320 Magenta Ink Cartridge: 843964022394
Why choose Castle Ink?
100% satisfaction guarantees on all
Epson Ink Cartridges
and laser toner, free shipping when you spend $50, and seasoned customer service representatives that have been working in the print industry for more than 20 years.
These are the all the tags associated with Epson T060320 Magenta Ink Cartridge:
Stylus C5800F, Stylus C68, Stylus C88, Stylus C88Plus, Stylus CX3800, Stylus CX3810, Stylus CX4200, Stylus CX4800, STYLUS CX5800, STYLUS CX5800 F, STYLUS CX5800F, Stylus CX7800, Stylus D68P, Stylus D88, Stylus D88 Plus, Stylus DX3800, Stylus DX4800, T0603, T060320