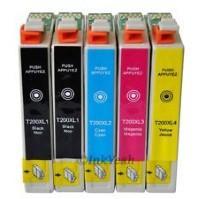 SKU: T060BUNDLE
Availability: In Stock
Type: Remanufactured
Color: 2 Black, 1 Cyan, 1 Yellow, 1 Magenta
Printer Brand: Epson

DetailsSave big with our 5-pack of remanufactured Epson T060 series ink cartridges for your Epson Stylus C88, CX4200, CX4800, CX5800f and CX7800 printers. Includes 2 Black T060120 (T0601), 1 each of Cyan T060220 (T0602), Magenta T060320 (T0603), and Yellow T060420 (T0604). Comes with our 100% satisfaction guarantee!

Some key features include:

Print yield is 450 pages black and 450 pages color
Shelf life is 12-18 months
100% satisfaction guarantee!
FREE SHIPPING when you spend $50 or more
Major savings - costs less than $7/cartridge
Compatible Printers
Stylus C68, Stylus C88, Stylus C88Plus,Stylus C88+, Stylus CX3800, Stylus CX3810, Stylus CX4200, Stylus CX4800, Stylus CX5800, Stylus CX5800F, Stylus CX5800 F,Stylus C5800F, Stylus CX7800,Stylus D68P, Stylus D88, Stylus D88 Plus, Stylus DX3800, Stylus DX4800 Why choose Castle Ink?

100% satisfaction guarantees on all ink cartridges and laser toner, free shipping when you spend $50, and seasoned customer service representatives that have been working in the print industry for more than 20 years.