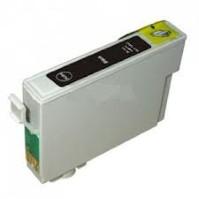 SKU: T069120Availability:
In Stock
Type:
Remanufactured
Color:
Black
Printer Brand:
Epson
Details
Get exceptional print quality and bold, black print outs with this premium remanufactured T069120 ink cartridge. We've professionally cleaned, recycled, and refilled this black ink cartridge with top quality ink in our certified ISO 9001 facility. Save money and save the environment by using remanufactured cartridge. This is a universal cartridge, meaning it can be used in place of the T068120 or the T069120. Comes with a 100% satisfaction guarantee. Please note that this cartridges is not compatible with Epson CX7400 printers.
Compatible Printers
Stylus CX5000, Stylus CX6000, Stylus CX7000,Stylus CX7000F,Stylus CX7400,Stylus CX7450,Stylus CX8400,Stylus CX9400,Stylus CX9475Fax,Stylus CX9475,Stylus CX9495,Stylus N11,Stylus NX11,Stylus NX100,Stylus NX105,Stylus NX110, Stylus NX115,Stylus NX200,Stylus NX215,Stylus NX300,Stylus NX305,Stylus NX400,Stylus NX410,Stylus NX415,Stylus NX510,Stylus NX515,Workforce 30, Workforce 40, WorkForce 310,Workforce 315,Workforce 500,Workforce 600,WorkForce 610,Workforce 615,WorkForce 1100 Wideformat,
Why choose Castle Ink?
100% satisfaction guarantees on all ink cartridges and laser toner, free shipping when you spend $50, and seasoned customer service representatives that have been working in the print industry for more than 20 years.