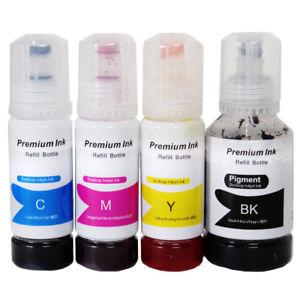 SKU: T502-BUNDLEAvailability:
In Stock
Type:
Compatible
Color:
Black, Cyan, Magenta, Yellow
Printer Brand:
Epson
Details
Try our compatible T502 ink tank bundle!. In this bundle of 4 ink tanks you'll receive (1) black T502120-S, (1) cyan T502220-S, (1), yellow T502420-S, and (1) magenta T502320-S ink tank, compatible with the Epson T502 series. All our ink cartridges come with our 100% satisfaction guarantee and FREE SHIPPING when you spend $50 or more!
The T502 ink tank series is compatible with Epson printers, including: Expression ET-2700, ET-2750, ET-3700; WorkForce ET-3750, ET-4750.
It has a standard capacity and can last 24-36 months. Note that using alternative ink bottles to OEM does not void the printer's warranty.
Compatible Printers
EcoTank ET-2760, 
EcoTank Pro ET-15000, ET-2700, ET-2750, ET-2760, ET-3700, ET-3710, ET-3750, ET-3760, ET-4750, ET-4760, EXPRESSION ET-2700, EXPRESSION ET-2750, EXPRESSION ET-3700, WORKFORCE ET-15000, WORKFORCE ET-3750, WORKFORCE ET-4750, WORKFORCE ST-2000, WORKFORCE ST-3000, WORKFORCE ST-4000
Here is the GTIN for Epson T502 Ink Bottle Bundle (set of 4 ink tanks): 843964022394
Why choose Castle Ink?
100% satisfaction guarantees on all
Epson Ink Cartridges
and laser toner, free shipping when you spend $50, and seasoned customer service representatives that have been working in the print industry for more than 20 years.
These are the all the tags associated with Epson T502 Ink Bottle Bundle (set of 4 ink tanks):
EcoTank ET-2760, EcoTank Pro ET-15000, Epson T502, ET-2700, ET-2750, ET-2760, ET-3700, ET-3710, ET-3750, ET-3760, ET-4750, ET-4760, Expression ET-2700, Expression ET-2750, Expression ET-3700, T502, T502120, T502220, T502320, T502420, WORKFORCE ET-15000, WorkForce ET-3750, WorkForce ET-4750, WORKFORCE ST-2000, WORKFORCE ST-3000, WORKFORCE ST-4000