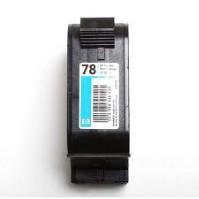 SKU: C6578AN
Availability: In Stock at 4inkjets ONLY
Type: Remanufactured
Color: Color
Printer Brand: HP


We no longer carry this cartridge; please visit our partner 4Inkjets.com to view and make a purchase.  CLICK HERE

Details
This ink cartridge replaces the HP C6578DN / C6578A / C6578D (HP 78 Tri Color). It has been professionally remanufactured and offers outstanding print quality at a fraction of the original price. Comes with our 100% satisfaction guarantee.
Castle Ink's recycled HP 78 ink cartridges offer outstanding quality and consistency at a fraction of the price of name-brand HP replacements. For true to life images and vivid, rich text, give our replacement C6578AN ink cartridges a try today. Other key features include:
- great for all kinds of printing including presentations, photos, documents, and more.
- high performance and consistent quality guaranteed.
- page yields up to 450 pages
- fade-resistant color
- built-in printhead
- compatible with many HP printers; see below for the complete list.
- when you upgrade the quality of the paper, your print outs will become even more precise
Give Castle Ink's HP C6578AN ink cartridges a try today to cut your printing costs without sacrificing quality.
Compatible Printers
Color Copier 180,Color Copier 190,Color Copier 280,Color Copier 290,COLOR COPIER 310,DIGITAL COPIER 310 Series,DESKJET 920,DESKJET 920C,DESKJET 920CVR,DESKJET 930,DESKJET 930C,DESKJET 932,DESKJET 932C,DESKJET 934,DESKJET 935,DESKJET 935C,DESKJET 940,DESKJET 940C,DESKJET 940CVR,DESKJET 950,DESKJET 950C,DESKJET 952,DESKJET 952C,DESKJET 955,DESKJET 959,DESKJET 960,DESKJET 960CSE,DESKJET 960CXI,DESKJET 970,DESKJET 970C, DESKJET 970CSE,DESKJET 970CXI,DESKJET 980,DESKJET 990,DESKJET 990C,DESKJET 990CM,DESKJET 990CSE,DESKJET 995,DESKJET 995C,DESKJET 995CK,Deskjet 1180c,Deskjet 1200,DESKJET 1220,Deskjet 1220C,Deskjet 1220c-ps,Deskjet 1220cse,Deskjet 1220cxi,Deskjet 3820,Deskjet 3822,Deskjet 6122,Deskjet 6127,DESKJET 9300,Digital Copier 310,Fax 1220,Fax 1220xi,Fax 1230,Fax 1230XI,OfficeJet 1170C,OfficeJet 1510A2L,Officejet 5110,Officejet 5110xi,Officejet5110A2l,Officejet G55,Officejet G55XI,Officejet G85,Officejet G85XI,Officejet G95,Officejet K60,Officejet K60xi,Officejet K80,Officejet K80xi,Officejet V40,Officejet V40xi,OfficeJet V45,PHOTOSMART 1000,PHOTOSMART 1100,PHOTOSMART P1000,PHOTOSMART 1000i,PHOTOSMART P1000 Series,PHOTOSMART P1000XI,PHOTOSMART P1100,PHOTOSMART P1100 Series,PHOTOSMART P1100XI,PHOTOSMART 1115,PHOTOSMART 1115CVR,PHOTOSMART 1215,PHOTOSMART 1215vm,PHOTOSMART 1218,PHOTOSMART 1218xi,PHOTOSMART 1315,PHOTOSMART P1000,PHOTOSMART P1100,PHOTOSMART P1100xi,PHOTOSMART P1215,PHOTOSMART P1215vm,PHOTOSMART P1218,PHOTOSMART P1218xi,PHOTOSMART P1000,PHOTOSMART P1100,PHOTOSMART P1215,PHOTOSMART P1218,PHOTOSMART P1315,PSC 700,PSC 750,PSC 750xi,PSC 750,PSC 750XI,PSC 900,PSC 940,PSC 950,PSC 950vr,PSC 950xi
Why choose Castle Ink?
100% satisfaction guarantees on all ink cartridges and laser toner, free shipping when you spend $50, and seasoned customer service representatives that have been working in the print industry for more than 20 years.