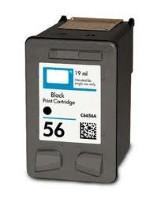 SKU: C6656ANAvailability:
In Stock
Type:
Remanufactured
Color:
Black
Printer Brand:
HP
Details
This high quality black ink cartridge replaces the HP C6656AN (HP 56 Black). It provides laser-quality black text, with crisp, sharp output. Over 19 ml ink volume. Comes with our 100% satisfaction guarantee!
Why choose Castle Ink? Our HP 56 ink cartridges offers consistent, long lasting print outs for all of your documents, pictures, and presentations. It's been specifically designed to offer unsurpassed image quality while at the same time giving you precise, sharp text print outs. Features of the HP C6656AN include:
- page yields up to 520 pages
- ink quality ensures fade-resistant color
- an excellent value when compared to the price of name-brand name replacements
- compatible with a wide variety of top HP printers; see below for the complete list
- easy to install
- coverage percent: 5%
- post-consumer recycled content percent: 52%
- Liquid volume: 19 mL
- Ink base: Pigment-based
For true to life print outs and unsurpassed reliability, try Castle Ink's replacement HP C6656AN ink cartridges today.
Compatible Printers
COLOR COPIER 410,DESKJET 450,DESKJET 450cbi,DESKJET 450ci,DESKJET 450wbt,DESKJET 5105,DESKJET 5150,DESKJET 5150W,DESKJET 5515,DESKJET 5550,DESKJET 5550v,DESKJET 5550w,DESKJET 5551,DESKJET 5552,DESKJET 5600,DESKJET 5650,DESKJET 5650w,DESKJET 5850,DESKJET 5850w,DESKJET 9600,DESKJET 9650,DESKJET 9670,DESKJET 9680,FAX 1240,OFFICEJET 2110,OFFICEJET 4110,OFFICEJET 4110v,OFFICEJET 4110xi,OFFICEJET 4215,OFFICEJET 4215v,OFFICEJET 4215xi,OFFICEJET 4219,OFFICEJET 4255,OFFICEJET 5500,OFFICEJET 5505,OFFICEJET 5510,OFFICEJET 5510v,OFFICEJET 5510xi,OFFICEJET 5600,OFFICEJET 5605,OFFICEJET 5608,OFFICEJET 5610,OFFICEJET 5610v,OFFICEJET 5610xi,OFFICEJET 6100,OFFICEJET 6110,OFFICEJET 6110XI,OFFICEJET 6127,OFFICEJET 6612,PSC 2110v,PSC 2110,PHOTOSMART PSC 2410V,PHOTOSMART 130,PHOTOSMART 230,PHOTOSMART 230v,PHOTOSMART 2410,PHOTOSMART 7150,PHOTOSMART 7150v,PHOTOSMART 7260,PHOTOSMART 7260v,PHOTOSMART 7260w,PHOTOSMART 7350,PHOTOSMART 7350v,PHOTOSMART 7450,PHOTOSMART 7450v,PHOTOSMART 7450xi,PHOTOSMART 7550,PHOTOSMART 7600,PHOTOSMART 7660,PHOTOSMART 7660v,PHOTOSMART 7660w,PHOTOSMART 7660,PHOTOSMART 7775,PHOTOSMART 7760,PHOTOSMART 7660v,PHOTOSMART 7660w,PHOTOSMART 7960,PHOTOSMART 7960w,PSC 1110,PSC 1110v,PSC 1118,PSC 1200,PSC 1205,PSC 1209,PSC 1210,PSC 1210A2L,PSC 1210v,PSC 1210xi,PSC 1240,PSC 1300,PSC 1310,PSC 1311,PSC 1312,PSC 1315,PSC 1315V,PSC 1315XI,PSC 1317,PSC 1318,PSC 1340,PSC 1350,PSC 1350V,PSC 1350xi,PSC 1355,PSC 2100,PSC 2105,PSC 2108,PSC 2110,PSC 2110V,PSC 2115,PSC 2150,PSC 2170,PSC 2171,PSC 2175,PSC 2175V,PSC 2175XI,PSC 2200,PSC 2210,PSC 2210V,PSC 2110XI,PSC 2405,PSC 2410,PSC 2410V,PSC 2410XI,PSC 2420,PSC 2510,PSC 2510XI,DIGITAL COPIER 410,OFFICEJET 5605,PHOTOSMART 7755
Why choose Castle Ink?
100% satisfaction guarantees on all ink cartridges and laser toner, free shipping when you spend $50, and seasoned customer service representatives that have been working in the print industry for more than 20 years.