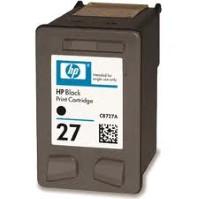 SKU: C8727ANAvailability:
In Stock
Type:
Remanufactured
Color:
Black
Printer Brand:
HP
Details
This black ink cartridge replaces the HP C8727AN (HP 27 Black). Save over 50% by buying remanufactured ink cartridges for your printer. Comes with our 100% satisfaction guarantee.
Compatible Printers
DESKJET 3320,DESKJET 3322,DESKJET 3325,DESKJET 3420,DESKJET 3425,DESKJET 3450,DESKJET 3520,DESKJET 3520V,DESKJET 3550,DESKJET 3620V,DESKJET 3650,DESKJET 3650V,DESKJET 3651,DESKJET 3740,DESKJET 3740V,DESKJET 3745,DESKJET 3745V,DESKJET 3747,DESKJET 3840,DESKJET 3530,DESKJET 3843,DESKJET 3844,DESKJET 3845,DESKJET 3847,FAX 1240,OFFICEJET 4315, OFFICEJET 4315V,OFFICEJET 4315XI,OFFICEJET 5600,OFFICEJET 5605,OFFICEJET 5610,OFFICEJET 5610V,OFFICEJET 5610XI,PSC 1240,PSC 1310,PSC 1311,PSC 1312,PSC 1315,PSC 1315V,PSC 1315XI,PSC 1317,PSC 1318,PSC 2100,PSC 2150,PSC 2170,PSC 2200,PSC F380,
Here is the GTIN for HP C8727AN Black Ink Cartridge: 810000266418
Why choose Castle Ink?
100% satisfaction guarantees on all
HP Ink Cartridges
and laser toner, free shipping when you spend $50, and seasoned customer service representatives that have been working in the print industry for more than 20 years.
These are the all the tags associated with HP C8727AN Black Ink Cartridge:
C8727AN, DESKJET 3320, DESKJET 3322, DESKJET 3325, DESKJET 3420, DESKJET 3425, DESKJET 3450, DESKJET 3520, DESKJET 3520V, DESKJET 3530, DESKJET 3550, DESKJET 3620V, DESKJET 3650, DESKJET 3650V, DESKJET 3651, DESKJET 3740, DESKJET 3740V, DESKJET 3745, DESKJET 3745V, DESKJET 3747, DESKJET 3840, DESKJET 3843, DESKJET 3844, DESKJET 3845, DESKJET 3847, FAX 1240, HP 27, OFFICEJET 4315, OFFICEJET 4315V, OFFICEJET 4315XI, OFFICEJET 5600, OFFICEJET 5605, OFFICEJET 5610, OFFICEJET 5610V, OFFICEJET 5610XI, PSC 1240, PSC 1310, PSC 1311, PSC 1312, PSC 1315, PSC 1315V, PSC 1315XI, PSC 1317, PSC 1318, PSC 2100, PSC 2150, PSC 2170, PSC 2200, PSC F380