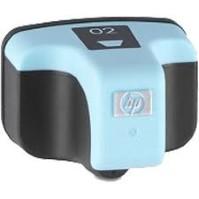 SKU: C8774WNAvailability:
In Stock
Type:
Compatible
Color:
Light Cyan
Printer Brand:
HP
Details
This compatible ink cartridge replaces the HP C8774 (HP 02 Light Cyan). A new patented design gives these ink cartridges double the yield of regular HP ink cartridges (a page yield of 480 versus only 240). Comes with our 100% satisfaction guarantee.
Compatible Printers
PHOTOSMART 3110,PHOTOSMART 3210,PHOTOSMART 3310,PHOTOSMART 7360,PHOTOSMART 8180,PHOTOSMART 8230,PHOTOSMART 8238,PHOTOSMART 8250,PHOTOSMART 8253,PHOTOSMART C5100,PHOTOSMART C5140,PHOTOSMART C5150,PHOTOSMART C5175,PHOTOSMART C5180,PHOTOSMART C5185,PHOTOSMART C5188,PHOTOSMART C5190,PHOTOSMART C6100,PHOTOSMART C6150,PHOTOSMART C6175,PHOTOSMART C6180,PHOTOSMART C6183,PHOTOSMART C6185,PHOTOSMART C6188,PHOTOSMART C6200,PHOTOSMART C6240,PHOTOSMART C6250,PHOTOSMART C6270,PHOTOSMART C6275,PHOTOSMART C6280,PHOTOSMART C6283,PHOTOSMART C6285,PHOTOSMART C6286,PHOTOSMART C6288,PHOTOSMART C7180,PHOTOSMART C7200,PHOTOSMART C7250,PHOTOSMART C7275,PHOTOSMART C7280,PHOTOSMART C7283,PHOTOSMART C7288,PHOTOSMART C8150,PHOTOSMART C8180,PHOTOSMART C8183,PHOTOSMART D6160,PHOTOSMART D7145,PHOTOSMART D7155,PHOTOSMART D7160,PHOTOSMART D7168,PHOTOSMART D7245,PHOTOSMART D7255,PHOTOSMART D7260,PHOTOSMART D7263,PHOTOSMART D7268,PHOTOSMART D7345,PHOTOSMART D7355,PHOTOSMART D7360,PHOTOSMART D7368,PHOTOSMART D7460,PHOTOSMART WIRELESS D7460,PHOTOSMART 3110,PHOTOSMART 3210,PHOTOSMART 3210V,PHOTOSMART 3210XI,PHOTOSMART 3310,PHOTOSMART 3310XI,PHOTOSMART 8250,
Here is the GTIN for HP C8774WN Light Cyan Ink Cartridge: 810000266418
Why choose Castle Ink?
100% satisfaction guarantees on all
HP Ink Cartridges
and laser toner, free shipping when you spend $50, and seasoned customer service representatives that have been working in the print industry for more than 20 years.
These are the all the tags associated with HP C8774WN Light Cyan Ink Cartridge:
C8774, C8774WN, HP 02, PHOTOSMART 3110, PHOTOSMART 3210, PHOTOSMART 3210V, PHOTOSMART 3210XI, PHOTOSMART 3310, PHOTOSMART 3310XI, PHOTOSMART 7360, PHOTOSMART 8180, PHOTOSMART 8230, PHOTOSMART 8238, PHOTOSMART 8250, PHOTOSMART 8253, PHOTOSMART C5100, PHOTOSMART C5140, PHOTOSMART C5150, PHOTOSMART C5175, PHOTOSMART C5180, PHOTOSMART C5185, PHOTOSMART C5188, PHOTOSMART C5190, PHOTOSMART C6100, PHOTOSMART C6150, PHOTOSMART C6175, PHOTOSMART C6180, PHOTOSMART C6183, PHOTOSMART C6185, PHOTOSMART C6188, PHOTOSMART C6200, PHOTOSMART C6240, PHOTOSMART C6250, PHOTOSMART C6270, PHOTOSMART C6275, PHOTOSMART C6280, PHOTOSMART C6283, PHOTOSMART C6285, PHOTOSMART C6286, PHOTOSMART C6288, PHOTOSMART C7180, PHOTOSMART C7200, PHOTOSMART C7250, PHOTOSMART C7275, PHOTOSMART C7280, PHOTOSMART C7283, PHOTOSMART C7288, PHOTOSMART C8150, PHOTOSMART C8180, PHOTOSMART C8183, PHOTOSMART D6160, PHOTOSMART D7145, PHOTOSMART D7155, PHOTOSMART D7160, PHOTOSMART D7168, PHOTOSMART D7245, PHOTOSMART D7255, PHOTOSMART D7260, PHOTOSMART D7263, PHOTOSMART D7268, PHOTOSMART D7345, PHOTOSMART D7355, PHOTOSMART D7360, PHOTOSMART D7368, PHOTOSMART D7460, PHOTOSMART WIRELESS D7460