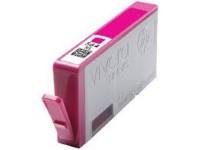 SKU: CB324WNAvailability:
In Stock
Type:
Compatible
Color:
Magenta
Printer Brand:
HP
Details
This extra large magenta ink cartridge replaces the HP CB324WN (HP 564XL High Yield Magenta). Cut your ink cartridge costs without compromising quality - comes with our 100% satisfaction guarantee. This is the high yield version that can also replace the CB319WN.
You can count on our HP 564XL Magenta ink cartridge to meet your every need. It's the perfect option for all kinds of printing projects, including documents, photos, and even detailed presentations. Features of the HP 564XL Magenta include:
- consistent, high-quality results every time.
- smudge, fade resistant prints.
- yields up to 750 pages.
- compatible with many HP printers including HP Photosmart 7510, 7515, D5445, D5460, C6340, C6350, and more. See below for the complete list.
- the low cost means this ink cartridge is a great option for high-volume printing.
- ink drop size: 5.5 pl HDW, 1.3 pl LDW
- ink type: Dye-based
- operating temperature range: 41 - 104 deg F
- storage temperature range: -40 - 158 deg F
- operating humidity range: 5 - 80% RH
- storage humidity range: 5 - 80% RH
Give our CB324WN (HP 564XL High Yield Magenta) ink cartridge a try today!
Compatible Printers
PHOTOSMART All-In-One Printer,PHOTOSMART B209A,PHOTOSMART B210A,PHOTOSMART B8500,PHOTOSMART B8550, PHOTOSMART B8553,PHOTOSMART B8558,PHOTOSMART C309 Series,PHOTOSMART C309A,PHOTOSMART C309G,PHOTOSMART Premium C309c,PHOTOSMART Premium c309 Wireless,PHOTOSMART Premium c309 Wireless,PHOTOSMART C310A,PHOTOSMART C510,PHOTOSMART C510A,PHOTOSMART C5300,PHOTOSMART C5324,PHOTOSMART C5370,PHOTOSMART C5373,PHOTOSMART C5380,PHOTOSMART C5383,PHOTOSMART C5388,PHOTOSMART C5390,PHOTOSMART C5393,PHOTOSMART 6300,PHOTOSMART 6324,PHOTOSMART C6340,PHOTOSMART C6350,PHOTOSMART C6375,PHOTOSMART C6380,PHOTOSMART C6383,PHOTOSMART C6388,PHOTOSMART D5400 Series,PHOTOSMART D5445,PHOTOSMART D5460,PHOTOSMART D5463,PHOTOSMART D5468,PHOTOSMART D7500 Series,PHOTOSMART D7560,PHOTOSMART e-All-In-One,PHOTOSMART eStationAll-In-One,PHOTOSMART Plus All-In-One,PHOTOSMART Premium e-All-In-One,PHOTOSMART Premium Fax,PHOTOSMART Premium Fax All-In-One,PHOTOSMART Premium Fax e-All-in-One-C410A,PHOTOSMART touchSmart Web All-In-One,PHOTOSMART eStation Wireless,PHOTOSMART Plus,Phototsmart Plus CN216A,PHOTOSMART Premium Wireless,PHOTOSMART Plus Special Edition Wireless e,PHOTOSMART Plus CN219A,PHOTOSMART Premium Fax,PHOTOSMART Premium Touch WebSmart,Phototsmart Pro B8550,PHOTOSMART PLUS CN216A, PHOTOSMART 7520,HP DeskJet 3520 e-All-in-One, Officejet 4620, PHOTOSMART 7525, HP PS7520
Why choose Castle Ink?
100% satisfaction guarantees on all ink cartridges and laser toner, free shipping when you spend $50, and seasoned customer service representatives that have been working in the print industry for more than 20 years.