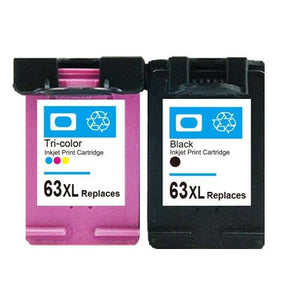 SKU: HP 63 XL SET
Availability: In Stock
MPN: L0R46AN#140
Type: Compatible
Color: Black and Tricolor
Printer Brand: HP

HP 63 Ink Details
Try our compatible replacement high yield HP 63 ink - both black and tricolor ink included in this set which replaces the F6U64AN and F6U63AN originals. Comes with our 100% satisfaction guarantee and is sure to cut your printing costs by up to 50%.   The HP 63 ink cartridge yield is as follows: (approx.) 190 pages black, 165 pages tri-color.  Works with a number of popular HP DeskJet, Envy, and OfficeJet printers - see the full list below.
HP 63 Ink - Compatible Printers
Deskjet 1110,DeskJet 1111,Deskjet 1112, Deskjet 2130, Deskjet 2131,Deskjet 2132, Deskjet 2133, Deskjet 2134, DeskJet 2136,Deskjet 3630,Deskjet 3631, Deskjet 3632, Deskjet 3633, Deskjet 3634 Deskjet 3636,DeskJet 3638,DeskJet 3637,DeskJet 3635,ENVY 4520 All-in-One,Envy 4511,Envy 4512,Envy 4516,Envy 4522,Envy 4523,Envy 4524,Envy 4525,Envy 4526,Envy 4527,Envy 4528,OfficeJet 3830, OfficeJet 3831,OfficeJet 3832,OfficeJet 3834,OfficeJet 4650 All-in-One,OfficeJet 4652,OfficeJet 4654,OfficeJet 4655,OfficeJet 5252,Officejet 5255,OfficeJet 5258, 
OfficeJet 5260
Here is the GTIN for HP 63 Ink - HP 63XL Ink Cartridge Set - 1 Black and 1 Tricolor: 810000266418
Why choose Castle Ink?
100% satisfaction guarantees on all
HP Ink Cartridges
and laser toner, free shipping when you spend $50, and seasoned customer service representatives that have been working in the print industry for more than 20 years.
These are the all the tags associated with HP 63 Ink - HP 63XL Ink Cartridge Set - 1 Black and 1 Tricolor:
Deskjet 1110, Deskjet 1112, Deskjet 2130, Deskjet 2131, Deskjet 2132, Deskjet 2133, Deskjet 2134, DeskJet 2136, Deskjet 3630, Deskjet 3631, Deskjet 3632, Deskjet 3633, Deskjet 3634 Deskjet 3636, DeskJet 3635, DeskJet 3637, DeskJet 3638, Envy 4511, Envy 4512, Envy 4516, Envy 4520, ENVY 4520 All-in-One, Envy 4522, Envy 4523, Envy 4524, Envy 4525, Envy 4526, Envy 4527, Envy 4528, F6U63AN, F6U64AN, HP 63, HP 63XL, HP63, OfficeJet 3830, OfficeJet 3831, OfficeJet 3832, OfficeJet 3834, OfficeJet 4650, OfficeJet 4650 All-in-One, OfficeJet 4652, OfficeJet 4654, OfficeJet 4655, OfficeJet 5252, Officejet 5255, OfficeJet 5258, OfficeJet 5260